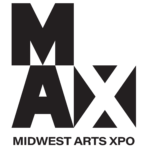 The Midwest Arts Xpo is a new arts conference created by Heartland Performing Arts, Inc., a coalition of Midwest arts presenters, agents, managers and artists, in response to the discontinuation of the annual  conference presented by Arts Midwest.
The project has the full support of the Arts Midwest leadership as well as the presenter networks in Illinois, Indiana, Iowa, Michigan, Minnesota, North Dakota, Ohio, South Dakota, and Wisconsin, and beyond.
Indianapolis has been selected as the location for the 2023 and 2024 conferences.  Mark your calendar for September 18-21, 2023 and September 16-19, 2024.  Bookmark this page and join the mailing list to receive news and updates.
Heartland Performing Arts is a nonprofit organization which brings together arts professionals to encourage innovation, create educational opportunities, strengthen artist touring relationships, and support arts advocacy throughout the central United States. The organization was founded by agents, artists, and state consortia leaders from Illinois, Indiana, Iowa, Michigan, Minnesota, Ohio, Plains Presenters, Southwest Presenters, and Wisconsin.
Heartland Performing Arts Board of Directors
Tommy Hensel, President
Elgin Community College & IL Presenters Network Chair
Eric Olmscheid, Vice President
Wharton Center for Performing Arts at Michigan State University
Tianna Conway, Secretary
Moraine Valley Community College & WI Presenters Network Chair
Jeff Laramie, Treasurer
SRO Artists Inc
Sara Barasch, IMG Artists
Gail Boyd, Gail Boyd Artist Management 
Laurel Canan, Siegel Artist Management
Jared Duymovic, Marcus Performing Arts Center
Kevin Horton, William Morris Endeavor
Timothy Mar, Arts Management Group
Derrick McBride, Dance Theatre of Harlem
Lisa Rock, Close to You / Lisa Rock Entertainment
Ichun Yeh, Sozo Media
Midwest Arts Xpo Committee
Lindsay Bauer (Fairfield Arts & Convention Center, Sondheim Center)
Loni Boyd (Wisconsin Lutheran College)
Mary Jennings (Rozsa Center for the Performing Arts at Michigan Technological University)
Luisa Kormann (The Roots Agency)
Gary Minyard (Dayton Live)
Jennifer Morris (Siegel Artist Management)
Nicole Mulder (Theatre L'Homme Dieu)
Peter Palermo (Sheldon Arts Foundation)
Maureen Patton (The Grand 1894 Opera House)
Kevin Peters (G.L. Berg Entertainment)
Thomas Robbins (University of Dubuque, Heritage Center)
Lisa Rock (Lisa Rock Entertainment)
Leslie Rodriguez (Dominican University Performing Arts Center)
Crandall Rogers (Four Mortals Production)
Heartland Performing Arts, Inc. thanks the following generous individuals and organizations for their founding donations to this exciting new venture!
Janet Herman Barlow
Laurel Canan
Tianna Conway
Jared Duymovic
Daniel Hahn
Tommy Hensel
Gary Peterson
Plains Presenters